Applying Maslow's Hierarchy of Needs to Brand Marketing
What is Maslow's Hierarchy of Needs?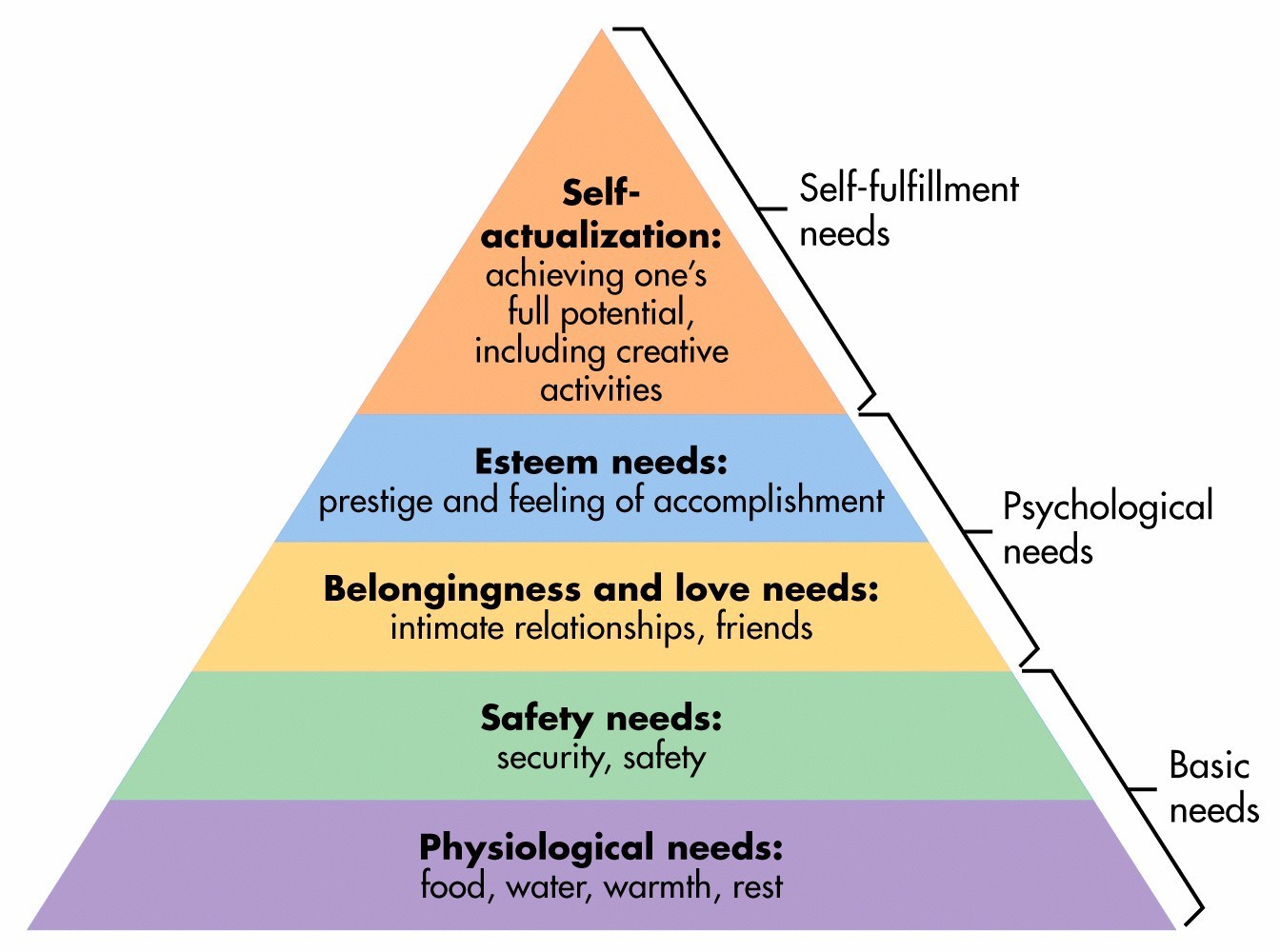 Maslow's hierarchy of needs is a 5-tier model of human needs.  They pyramid was founded by psychologist, Abraham Maslow in 1943.  The five tiers consist of physiological needs, safety needs, belongingness and love needs, esteem needs, and self actualization. Each tier represents a different level of need for humans.  
When first creating the hierarchy of needs, Maslow originally shared that individuals have to satisfy their lower level needs before they can work on needs that are at the top of the pyramid. Maslow then eventually corrected himself, specifying that not all needs in each level need to be met before being able to work on the next.  Instead, humans just need to feel a sense of the need being met before moving on to upper level needs.
Physiological Needs:
Safety Needs:
Shelter

Job security

Health

Safe environment

Belongingness and Love Needs: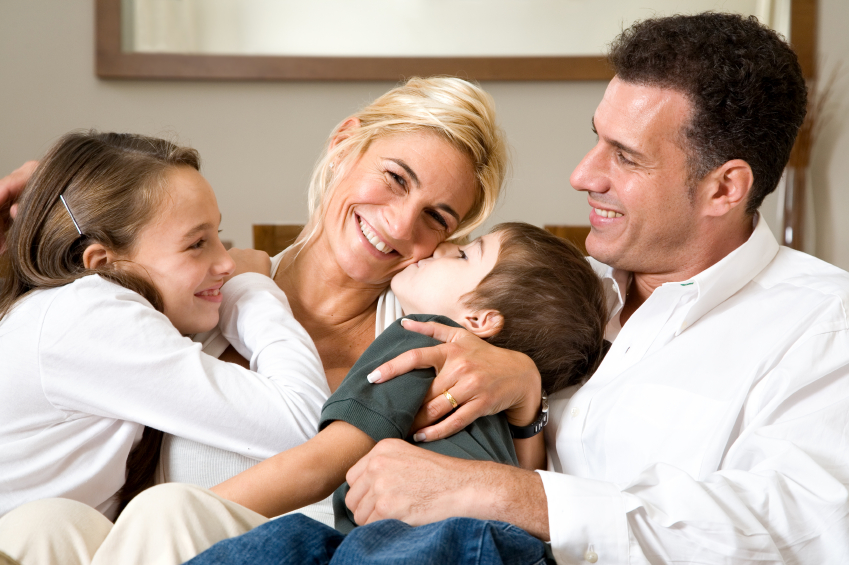 Esteem Needs:
Esteem for oneself

Desire for reputation

Self Actualization:
Self fulfillment

Seeking personal growth

Experiences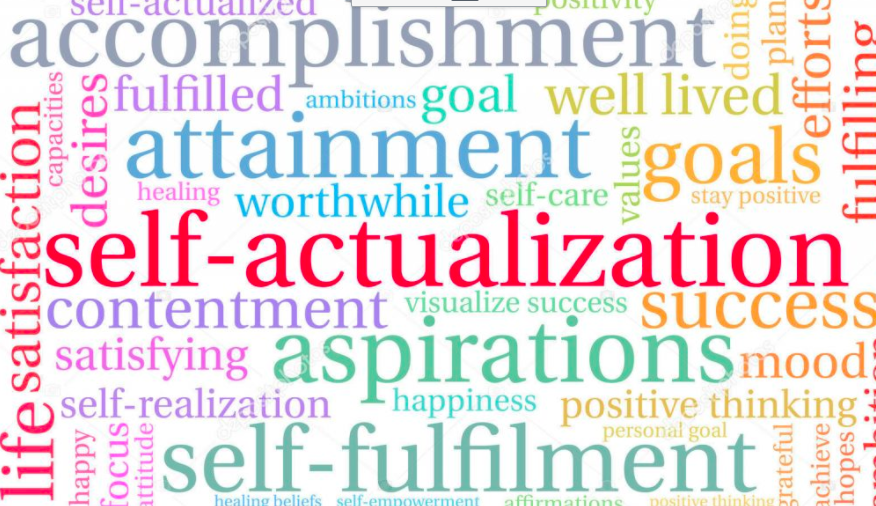 Why is it important to marketers?
When Maslow's hierarchy theory is applied to marketing, it is important for marketers to understand their ability to effectively appeal to at least one of the motivational drivers. Each area of business falls under at least one of the tiers on the hierarchy of needs.  For example, places like nail salons or hair salons fall under esteem or self actualization needs because it helps customers boost their self esteem while also helping them see their full potential.  Another example includes, marketing campaigns that are selling products like food or other basic human needs fall under the first level of the pyramid.  
It is essential to consider what level of need your customer is trying to meet and to have a better understanding of the background of what the need is.  Then, when marketing a product make sure that it is marketed it in a way that it convinces your customer that the product will fulfill their need(s).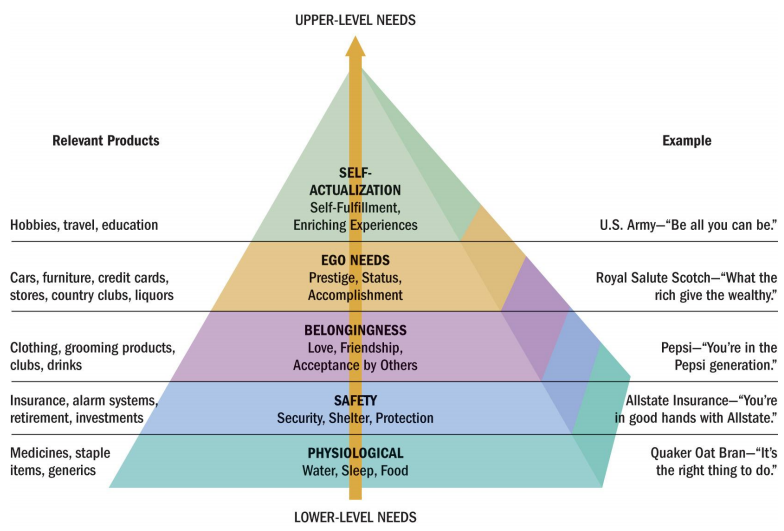 Where does your business fall on Maslow's Hierarchy of Needs? Use this information to glean more of your target demographic and where they live in the socio/economic sphere, thus learning more about how to market to them.

Brand Archetypes and Defining Your Company's Voice
Brand Archetypes
How do you get people to relate to and invest in your brand? Like every lead protagonist in any classic film, book, or TV series, your brand will be easier to identify with and build upon once it's been sorted into the proper archetype. Brand archetypes are images of collective nature to help define a company. Companies use this strategy to help maintain image and get a better understanding of the company's purpose. Brand archetypes are great for aligning the right customer persona with the company. 
Things to consider when defining the proper archetype and identity:
Value Proposition
Key Differentiators
Core Mission
Company History and track record
Client/customer profile
Vision for the future
Employee profile
Logo, colors, fonts
The Jungian Archetype, created by Swiss psychoanalyst and psychiatrist Carl Jung, is the most easily accessed and widely known set of relatable personas.  When figuring out brand archetypes it is important to make sure that the content that is created is consistent with the archetype and to make sure that the content that is made still aligns with customers.  
There are twelve brand archetypes for a company and they all stem from certain motivations. As a company, do you strive to help your customers or clients find stability, promote freedom, advocate for achievement, or give a sense of belonging? Find out what motivation best suits your brand, and then narrow it further with the archetypes that fall into it:
Motivation: Stability Control
The Caregiver:

Service, Nurturing, Generous

The Ruler:

Control, Responsible, Organized

The Creator:

Innovation, Imaginative, Driven
Motivation: Learning Freedom
The Innocent:

Safety, Optimism, Happiness

The Sage:

Understanding, Wisdom

The Explorer:

Freedom, Travel, Discovery, Risk
Motivation: Risk Achievement 
The Hero:

Mastery, Courageous, Inspirational

The Rebel:

Liberation, Outlaw, Revolution

The Magician:

Power, Visionary
Motivation: Belonging
The Everyman:

Belonging, Supportive, Down-to-Earth

The Lover:

Intimacy, Passion, Commitment

The Jester:

Enjoyment, Fun, Humor

image by Oglivy
What questions should you ask when defining your company's identity?
What Pain Points Do You Solve For Your Customers?
How Do You Make Your Clients Feel?
How are You Different?
Why Do Your Clients Trust You?
What's Your Story?
How Does Your Logo Communicate Your Brand?
What are Your Colors?
How Can You Streamline Visuals?
We're playing our part in the American #SmallBiz revolution.

We're playing our part in the #SmallBiz revolution ?? by helping enterprising companies build #brand equity & impact their consumers.

Despite the inevitable growth of the digital space the abundant opportunity for business to use it to acquire customers… there's still a huge amount of #customer education that needs to happen for companies today to understand the impact an investment your digital identity and the effect it has on the perceived value of your brand in the years to come. ?

This whole movement is in its infancy and we're committed to continuing to stay ahead of the curve by offering practical services that effectively Bridge The Gap Between BigTech and SmallBiz… I invite you to follow along this early stage #company as we grow into a two tier service provider: small business solutions & corporate #advertising.

Starting Up In Newport, Rhode Island: A Pillar Of American Freedom
We put on for our city (and country) ? We're proud to startup in one of America's first merchant port towns. 
People ask, why Newport? Far from the mainstream tech hubs of NYC, Boston or Silicon Valley – Newport has given us the opportunity to grow in a city that was a founding pillar of freedom from religious persecution & key center for merchant trade in ??'s formative years while connecting with many local business owners who identify with the core customer in our growth model. ?

At the heart of the city, Bellevue Avenue offers exceptional luxury shopping, art galleries, museums, & dining for the modern traveler and is home to some of the most elegant waterfront architecture in the country, many built and housed by America's first magnates.
Check out this video produced for The Bellevue Avenue Shopping District… Bellevue Avenue – America's First Resort.