Google shopping presents a unique opportunity to E-commerce companies. The typical Google Adwords platform allows keyword based bidding and can be effective for driving targeted traffic to any website, but all Ecommerce brands should be going beyond text based keyword advertising and utilizing Google's Merchant Center.
Google Merchant and Google Shopping allow Ecommerce websites to display their products in a commerce interface that directly converts individual products to checkout pages on their website. For obvious reasons – this lends itself to higher conversions, ROAS (return on ad spend) and top line revenue than typical text based ads.
Here is an example of how ads on the shopping interface appear to users: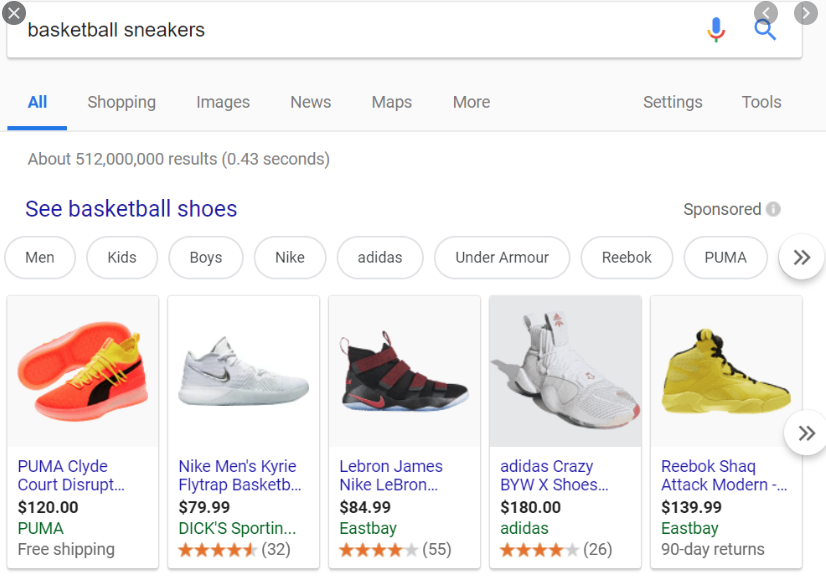 Since the number of people using Google each day is 1.7 Billion – there are obvious and massive advantages to running ads here to not only get more sales in the short term, but more importantly to capture new long term customers who will re-order from you. The LCV (lifetime customer value) per each new buyer that comes from Google Shopping is usually quite high.
To summarize: Google Shopping makes your products easier to find for users, generates higher conversions, and generates new customers that become regular buyers from your website. 
Even with your Ecommerce store integrated to Google Shopping and ads running – the road to maximum profitability of your campaign can only be achieved with expert level campaign deployment and management. My team here has run many campaigns for company's of all types, selling an array of products and there is a consistent process that must take place to hit to 400% ROAS mark that we target.
That's $5,000 in revenue for every $1,000 spent. Remember – you must cover the cost of manufacturing the product in the campaign in order to deliver true net profit to clients P & L.
It's also important to consider there are dozens of campaign styles you can deploy within Google Shopping. From CPC based bids, to Smart Shopping campaigns using Google's machine learning algorithms, to re-marketing ads to past users and beyond.
Process is as follows:
RESEARCH COMPETITOR & KEYWORDS TRENDS
DEPLOY INITIAL CAMPAIGNS
RUN A/B TESTS 
INTERATE CAMPAIGNS 
PAUSE/CANCEL UNPROFITABLE CAMPAIGNS
ADJUST SPEND
RUN A/B TESTS 
RE-DEPLOY AND RE-ITERATE
This process repeats and takes place for MONTHS, until maximum return-on-ad-spend is realized, which may result in a higher or lower overall budget than initially allocated. Client transparency is key in order to let this process organically run its course and so that clients understand there WILL be failed campaigns and dozens of split tests have to be conducted in order to optimize the overall campaign strategy.
Important to remember as strategic partner and campaign manager writing this – my job is to monitor profitability and communicate objectives to Search Engine Developers. You CANNOT achieve this level of results without a team of expert SEM and Search Developers, which I always make sure we have the best of in place. Below is an example of campaign running right now that underwent over 65 campaigns in order to hit the 400% monthly RETURN mark.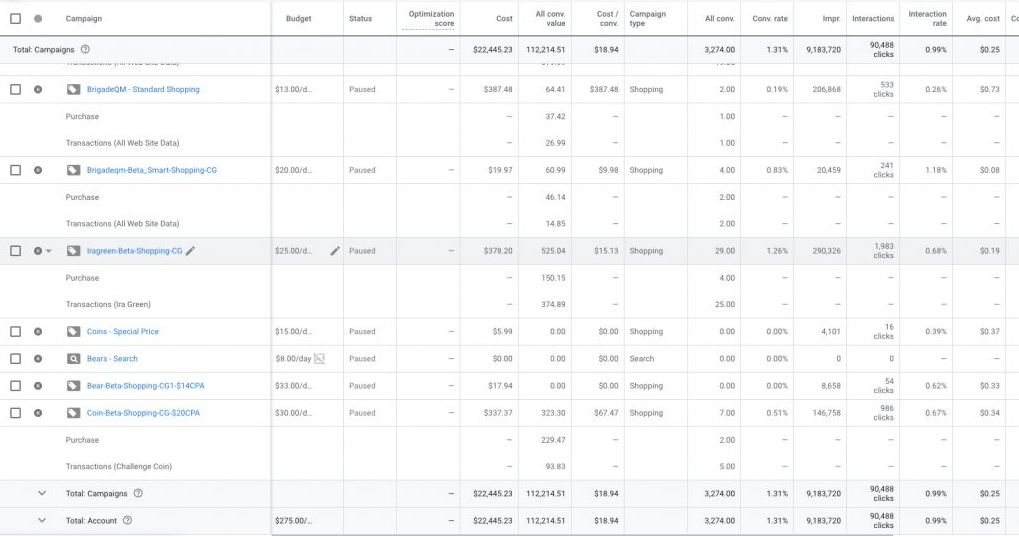 Here is a summary of a quick guide to path of Google Shopping success:
Use re-marketing, smart shopping and regular campaigns
Run more split tests than you think is needed
Know your product profit margin
Stay Up to Speed on Google's latest ad products
Perform high volume testing to eliminate unprofitable campaigns
Negative Keywords always
Communications with client about iterations and realistic timeframe to deliver
Accept imperfect ROAS for the first 3-4 months