Economic Forecast Predictions
Deloitte has predicted three different scenarios that they believe will describe the financial environment of the US economy in Q3 and Q4 of 2020.  The three scenarios that they believe are going to possibly occur are called the baseline scenario, the fast bounce back scenario and the no end in sight scenario.  
The first scenario, the baseline scenario, is that the economy will recover in Q3, but will experience a second decline in Q4.  This scenario predicts that the US will go back to the growth that the nation was experiencing pre-COVID19 and will reach full employment by Q1 of 2025.  
The next scenario, the fast bounce back scenario, believes that the economy reopening in May was great for the economic environment and was overall successful.  The damage from the Coronavirus outbreak was kept to have the least possible negative impact on small businesses.  The third and fourth quarters of 2020 will consist of improved growth and will thrive even more once a vaccine becomes available, allowing economic activity to resume back to normal (pre-COVID19).  
The last scenario, the no end in sight scenario, predicts that the reopening of the economy in the middle of Q2 will be proven to have been premature.  The number of cases will increase and states will be forced to partly close their economies' once again.  Fast growth in Q3 will be impacted by an economic decrease due to another outbreak in the beginning of Q4 when cooler weather comes.  The economy will not experience great growth until the end of 2021.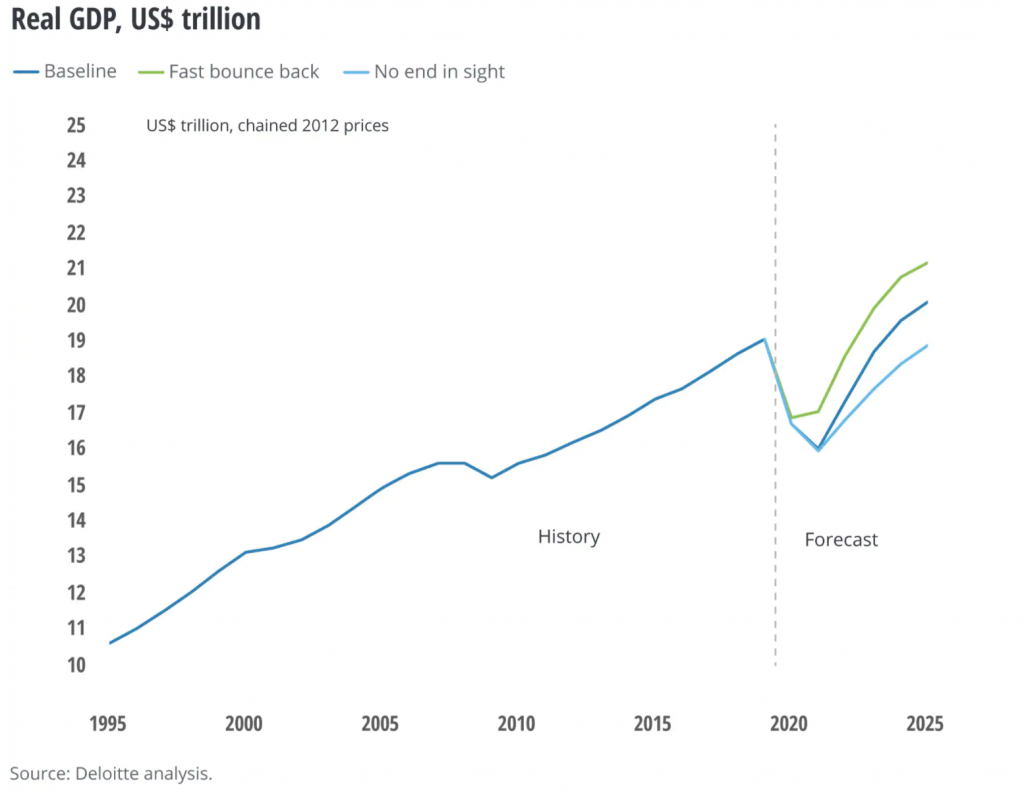 What does this mean for digital usage until the economy recovers?
Users have been and will continue to experience slower internet and lower quality imagery that they would experience pre-COVID19.  When the time comes that the economy allows businesses the ability to invest more in giving users a higher quality product there will certainly be more of an effort into improving technologies such as creating more 5G networks.
Predictions for Q4
The Coronavirus has put the world and many businesses on hold the past few months.  Many advertisers have pushed back their campaigns to later dates instead of cancelling them entirely. 
After experiencing a hard hit from the unexpected outbreak of Coronavirus, businesses in Q4 will be rearranging marketing budgets to make sure that they have enough funds to cover business expenses in case of fears of a second wave.  
In addition to marketing budgets, the building of 5G infrastructures have been put on hold in many cases.  Building has been put on hold until Q4 or possibly even 2021.  Asian countries like China, that began being affected by the Coronavirus before the United States are still facing economic losses and are not financially prepared enough to make large technology improvements such as building 5G networks.