In the last two months, as coronavirus fears have displaced large numbers of the US workforce some software geared toward video conferencing and remote work has benefited. Millions of Americans are moving from their office to work from home environments as they adjust to the new landscape.
Zoom Video Communications, Inc ($ZM) has added tens of billons of dollars to the market capitalization as users subscriptions surge, now valued at $42 Billion.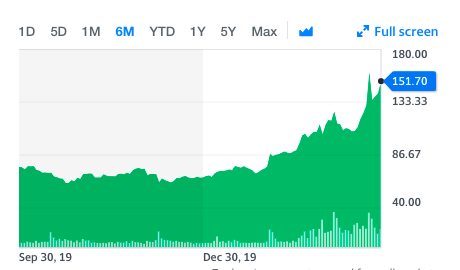 In a recent tweet from Jon Erlichman  we see that Zoom, who went public only 1 year ago now has a market value that is a much of the sum of many industry leaders combined. Truly an astonishing feat in such a short time frame.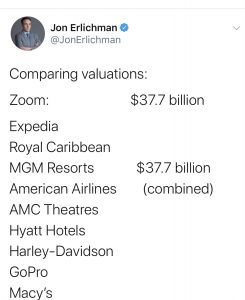 Since when this tweet was written some of of these company's have recovered from the market bottom, but the comparison still remains impressive.
Another group-work communication software seeing a huge growth in signups and valuation is Slack ($WORK), now valued at over $16 Billion. And we have also seem Amazon continue to grow on Ecomm dominance as a result of virtually all shopping moving online.
As employers and their workforce adjust to this new paradigm, you can't help but notice that some of the most innovative companies in the digital space are positioned to grow advantageously while company's reliant on physical/retail struggle as a result of challenging circumstances coming from Covid-19.