What is in high demand right now?
The nation-wide COVID-19 outbreak has caused hysteria to most Americans. Grocery stores are being cleared out causing individuals to go on hunts for everyday items such as toilet paper.  Since distancing guidelines have been put into place by the president and political leaders across the country, online sales have increased 52% since this time last year. Online retailers like Amazon have informed customers that they will only be prioritizing products that fall under necessity categories: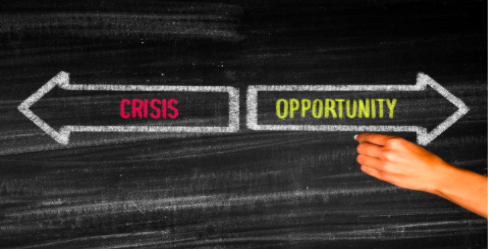 Baby products

Health and household products

Beauty and personal care products 

Grocery products

Industrial and scientific products

Pet Supplies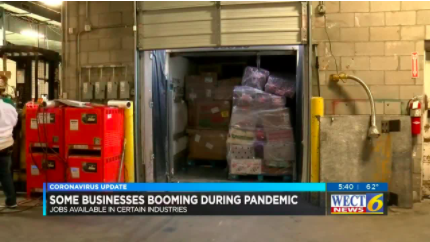 Industries 
From the impact of the COVID-19 pandemic, there has been an observed growth in some industries. Industries that are thriving and seeing growth include:
Companies 
Investor's Business Daily has gathered some data from analysts that have come up with the top eleven S&P 500 companies that are going to be positively impacted by the COVID-19 outbreak.  The companies included the Western Digital (WDC), Digital Realty Trust (DLR), and Advanced Micro Devices (AMD) that should expect 100 percent or even higher growth in the first quarter.  More companies in the analysis included well known companies such as Charter Communications (CHTR), Hasbro (HAS) and Netflix (NFLX).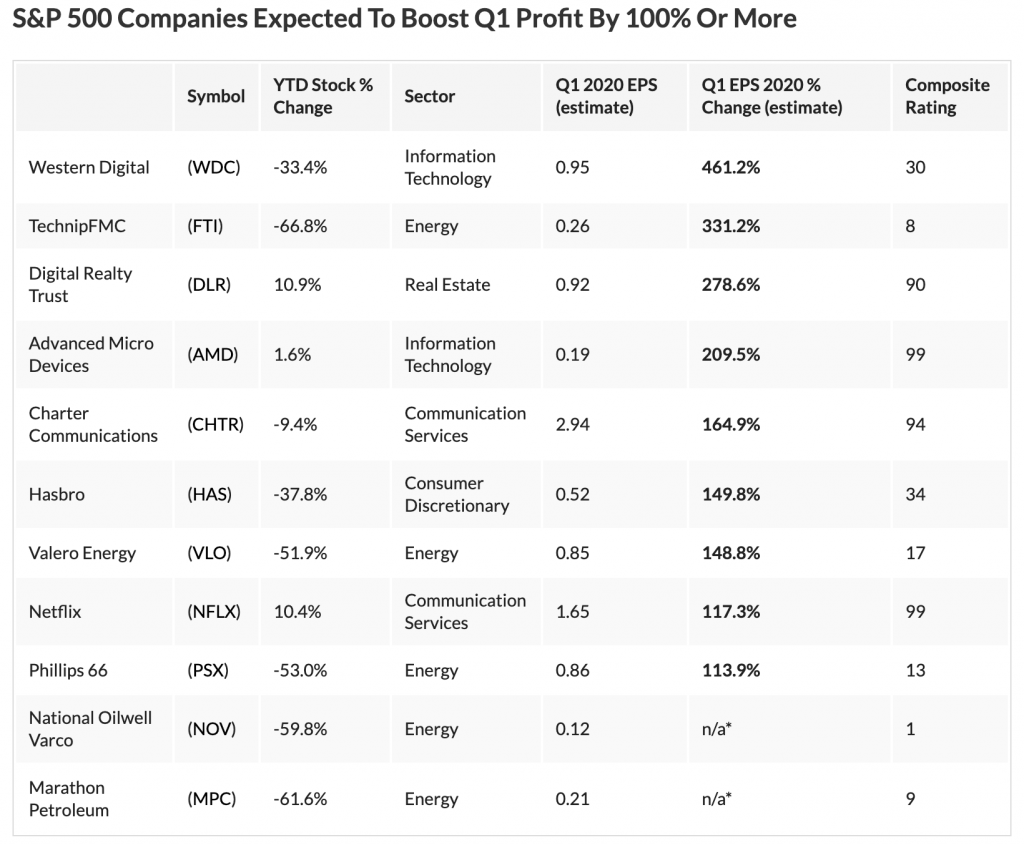 Other companies that should be seeing increased profit include Zoom Technologies (ZM), Moderna (MRNA), Gilead Sciences (GILD), The Clorox Company (CLX), Costco Wholesale (COST), Lakeland Industries (LAKE), Amazon (AMZN), and Campbell Soup Co. (CPB).
Zoom Technologies has so far seen a return of 424%.  Moderna is a pharmaceutical company that was one of the first to announce that they have begun research on finding a COVID-19 vaccine.  Gilead Sciences is another pharmaceutical company that has been working on selling an antiviral medication that can be used to treat COVID-19 patients.  The Clorox Company has been estimated to have a 2.4% increase in this year's earnings.  Costco's February sales were up 12.4% compared to their sales in February 2019.  In addition, Costco's quarterly earnings release shared that they have had a 6% increase in membership fees. Lakeland Industries manufactures protective clothing, like hazmat suits, has experienced a 14% increase in sales in their last quarter.  Amazon net sales growth is expected to have somewhere between a 16-22% increase.  Campbell Soup Co. has an estimated growth rate of 17.4% for this year.