What is UI design?
UI design is about using typography, images, and other visual design elements to turn a basic interface into something digestible and usable. UI design is the process of transforming wireframes into a polished graphical user interface. This both enhances a product's usability and creates an emotional connection between the end-user and a product. A UI designer's job begins where a UX designer's job ends—at the prototyping stage. They take the wireframes and add visual design to make them more usable, aesthetically appealing, and optimized for different screen sizes.
UI Designer Key Responsibilities
Look and Feel: Branding and Graphic Development, User Guides/Storyline, Customer Analysis, Design Research
Responsiveness and Interactivity: Adaptation to All Device Screen Sizes, Interactivity and Animation, Implementation with Developer, UI Prototyping, Implementation with Developer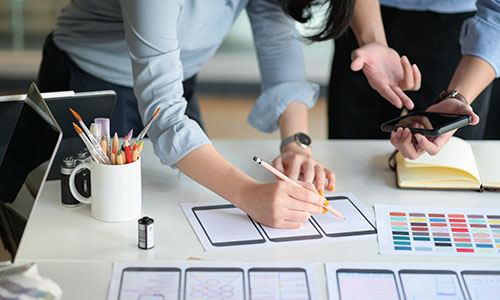 What is UX design?
UX design is about understanding the overall journey of your users and turning it into a product. UX design is concerned with the overall user-friendliness of an entire customer journey. And because UX has such a rich history, there's some debate over where it starts and ends. The role of a user experience designer is to understand the customer journey. That means understanding the target audience, interviewing customers, defining user flows, and conducting user testing.
UX Designer Key Responsibilities
Content/Strategy: Customer Analysis, Competitor Analysis, Product Structure/Strategy
Prototyping and Wireframing: Prototyping, Testing/Iteration, Development, Planning, Wireframing
Analytics and Execution: Coordination with Developer(s), Coordination with UI Designer(s), Analysis and Iteration, Tracking Goals and Integration