User Experience
User experience is how a user feels when they are interacting with a digital system.  Systems include websites, mobile apps, desktop software and any other type of digital technology that has to do with human/device interaction. Great user experience varies from industry to industry, however, the goals of user experience design teams tend to usually be the same or very similar.  Businesses strive to create a connection with their customers and to provide their customers with quality information.  This can be done by having great user experience.  User experience is so important because it fulfills users' needs. The main goal for user experience is to supply positive experiences to site users to boost and maintain user loyalty to the brand. 
User Interface
User interface is the specific features that a device or app has to improve customer convenience.  An example of user interface can be a simple feature like using a dropdown menu on an online order form when the user is filling out their street address, compared to making them have to type in the state themselves.  When creating websites, apps or software it's important to place heavy emphasis on interface because it helps with website responsiveness, efficiency and accessibility.  Together, these elements help a site improve on its conversion rates.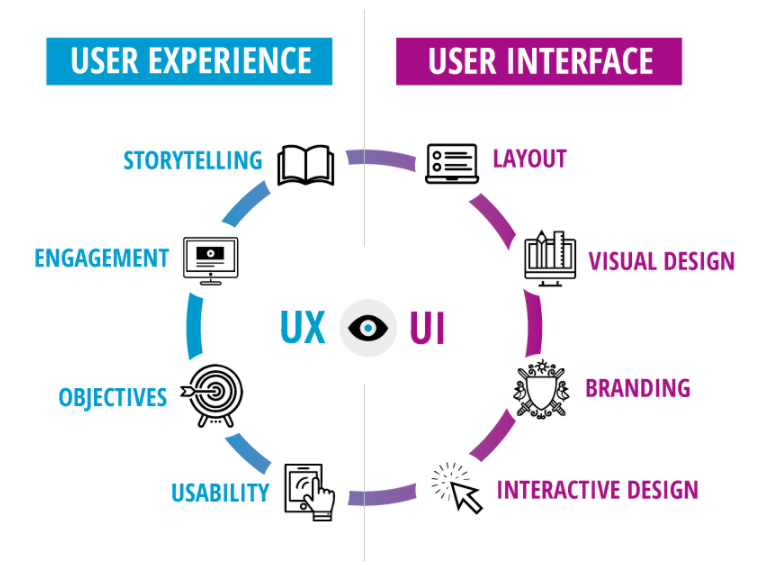 How do they work together?
User experience and user interface go hand in hand when rolling out any digital product.  User experience designers have the job to create and build the technical aspects of a website or applications.  While user interface designers have the job to create the visuals and graphics of the website or application.  In other words, user experience is the architecture and user interface is the interior design of the website or app that is being created.  It is crucial that a company's user experience team and user interface team work together in order to create a successful project. 
Full Stack UI/UX
Many design & development teams now consist of Sr. members who are versed in both interface and experience design. Because finished products rely so heavily on UI and UX working together seamlessly, a full stack designer is sometimes the best option to integrate the best end result as they centralize the main objectives and accomplish them without a lag in communication, by executing both UI and UX together.
Below are some elements that make a full stack designer, and to the right – developer. Here at J. Arthur we have each on our team!